Once a glider pilot cannot make it home and is forced to land on a field, assistance of a ground crew bringing the unlucky guy and the plane back to the home airfield is highly appreciated. To navigate your friends precisely on the spot, immediate fine orientation is required. This usually involves an angry pilot copying GPS coordinates from on-board navigation or a separate app to an SMS, in which one can easily make a mistake. Such mistake can then result in the rescue squad searching for the glider far far away.
The advantage of using this app is not limited to the pilots only. The ground crews can use it to receive the message (with extended notification that reception will never be missed) and navigate seamlessly and instantenously to the landing spot.
Also rather recently we discovered also the ballooning folks and their search teams can use it to a very high advantage when tailing their hot-air baloons and attempting to find a good track to the landing area.
For that matter there is a simple Android app "Outlanded" / "V Poli" to send exact GPS coordinates and nearest town to your ground crew.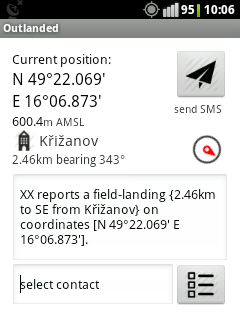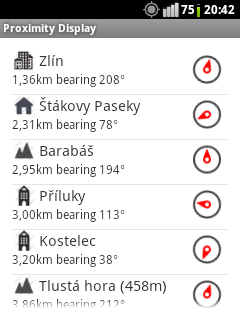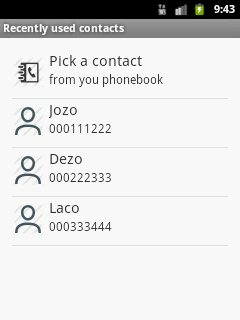 The app is not only for pilots, also the ground crews can benefit of it. Reception of a rescue message is announced repeatedly until read, direct map overview or navigation can be initiated without manual transcription of the GPS coordinates to navigation software.
CS & EU Editions
There are two versions of the Outlanded application which differ only in the offline database of points for the Proximity Display.
The European edition contains towns and hills all around Europe, namely Czech Republic, Slovakia, Austria, Poland, Germany, Sweden, Switzerland, Spain, Finland, France, Italy, Norway, Portugal, United Kingdom and Hungary. In case of interest, Australia and New Zealand can also be released. The little drawback of such database is its size, which might be beyond limit for some older devices, both in spaces and lookup speed.
The CS edition comprises of habitated places and hills inside the borders of Czech Republic and Slovakia, with added reasonable border area around in which we can still fly and expect land. The covered area can be seen in the screenshot section.
Other areas like Australian outbacks, New Zealand's highlands, African deserts or americas are also possible - just ask for them!
Localisation / i18n
The app speaks currently Czech, English and German. If you wish to help with translation to your or any other language, please get in touch!
Google Play
At this moment it is not available in the Play app market as I am not willing to pay evil Google $25 just like that.. I rather fly some more hours. However, if there were someone willing to contribute some bucks, it would be there right away! :)